Carcajou
Designation

Sentient

Classification

Humanoid

Homeworld
Language

Carcajou

Height of
average adult

1.4-1.6 meters

Skin color

Light to dark

Hair color

Brown to black

Eye color

Brown, yellow, green

Distinctions

Retractable bone
claws
Enhanced senses
Regeneration
Fast healing

Average lifespan

240 standard years

Famous members
The Carcajou were stocky, muscular humanoids from the planet Avagod IV. Mostly, Carajou could be found with brown or black hair. Their eyes were usually brown or yellow but were occasionally green. They had a small pug nose and pointed ears. They had three retractable bone claws on each hand which were retractable into their forearms through naturally formed channels in the lowers arms and the backs of the hands.
The most well-known Carcajou was Yon Kohl, the personal bodyguard of Rena and Jolee Traabo.
RPG D6 Stats
Technology Level: Industrial with some Space due to galactic influence.
Government: Monarchy
Home Planet or System: Avagod IV
Attribute Dice: 12D
DEX 3D/5D
KNO 2D/4D
MEC 0D+2/3D
PER 2D/5D
STR 2D+2/4D+2
TEC 0D+1/2D+2
Special Abilities:
Claws: Do STR+1D+1 damage and add +1D to their brawling skill.
Keen Senses: Get +2D to search due to heightened sense of smell and hearing.
Healing Factor: They can make natural healing at the following times: 1 round for wounded, 4 hours for Incapacitated and 12 hours for mortally wounded. The character's condition cannot worsen and mortally wounded characters cannot die by rolling low. They can also regenerate lost limbs by making a Moderate Strength roll once a day, success means 10% of the limb has regenerated.
Female Technical Aptitude: Females receive an extra 1D attribute die to be placed in Technical.
Move: 10/13
Size: 1.4-1.6 meters tall
Lifespan: 240 standard years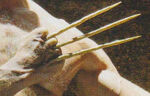 Ad blocker interference detected!
Wikia is a free-to-use site that makes money from advertising. We have a modified experience for viewers using ad blockers

Wikia is not accessible if you've made further modifications. Remove the custom ad blocker rule(s) and the page will load as expected.